Automa. burettes DURAN® cl. AS blue grad, 50:0,1 ml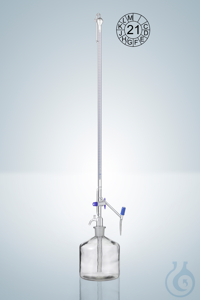 The picture may be different from the article and can include supply, which is not in the standard scope.
Order-No.: 148254372
Price on request
for 1 piece plus VAT (16%) plus shipping costs
Automatic burettes DURAN®, class AS blue graduation, 50:0,1 ml, incl. 2000 ml bottle (clear glass), Pellet, Schellbach, main point ring graduation, with spindle of PTFE and intermediate stopcock, blue graduation, acc. to DIN EN ISO 385, with declaration of conformity acc. to DIN 12600, with dated batch identification.
(-) Technical data:
Reg. Trademark:
DURAN®
Nominal volume:
50 ml
Material:
Borosilicate Glass 3.3
Precision class:
AS
EAN Code:
4049338014569
Scale Graduation:
0,1 ml